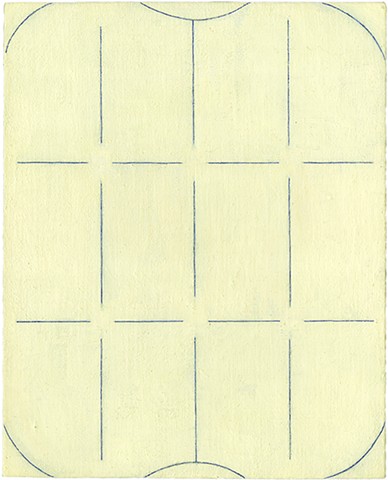 Lynne Woods Turner is a contemporary abstract painter also recognized for her intimate pencil drawings and works on paper. She received her BFA from Stephens College, Columbia, Missouri and her MA and MFA from the University of Iowa, Iowa City, Iowa. Her work contemplates the relationships between math, natural phenomena, and the human body.
Turner's work has been included in a number of exhibitions that have placed her quiet geometry in different contexts. "Zen Spirit, The Invisible Thread" at Karen McCready Gallery in New York (1999) was among the first of these, followed by "Erotic Drawing", at the Aldrich Contemporary Art Museum in 2003, and "Abstract" (2010) at the Douglas F. Cooley Memorial Art Gallery at Reed College. Other notable exhibitions include: "Formulation" at Gallery Joe in Philadelphia (2009), "Geometric Progressions: Eleven Painters" at Edward Thorp Gallery in New York (2010), and "Boolean Expressions" at the Lewis Gluckman Gallery in Cork Ireland (2015). In 2015 she exhibited a series of twenty-one drawings in "With A Clear Mind" at the Lumber Room in Portland, Oregon. Turner has had numerous solo exhibitions in commercial galleries including Danese Corey (New York), Devin Borden Hiram Butler (Houston), Gallery Joe (Philadelphia), Greg Kucera (Seattle) and Michael Kohn (Los Angeles).
Lynne Woods Turner's work is included in the permanent collections of many public and private institutions including the Museum of Modern Art, New York; the Fogg Art Museum at Harvard University: Yale University Art Gallery in New Haven; Hood Museum of Art at Dartmouth College; UCLA Hammer Museum in Los Angeles; and the National Gallery of Art in Washington, DC. She was named a 2022 Fellow of the John Simon Guggenheim Memorial Foundation.